May 2021
The UK government has now agreed that we can all fly overseas from 17 May, and I'm booked on a flight to Helsinki on 31 May.  It will be wonderful to be on board Korybant again.  There are some restrictions still, which (unless they are changed) mean I would have to quarantine myself at home for 10 days when I get back to the UK.  That may change before 15 June when I go home again.
But there will be sailing again, and I'm glad to see my old crew signing up, but there are still spaces available.
Helen (my daughter) & Matt had made provisional bookings in July, but they've both had Covid jabs now and expect to be able to fly from Malta, so those provisional bookings are now definite.
January 2021
I'll be getting my first vaccination against Covid-19 n Monday 18 January, and I've booked a flight out to Helsinki on 26 May for the initial fit-out and (with luck) delivery to Turku.  I'm also updating the website more generally and planning cruises for 2021.
November 2020
The UK is just going into its second lock-down, for 4 weeks, with he hope that we can do a bit of celebrating at Christmas.  There's quite a lot of optimistic talk about vaccines becoming available in first quarter 2021, and being of the older persuasion I hope I'll be eligible for an early jab.
I'm just starting to plan cruises for 2021.  More news soon, I hope.
June 2020
I'm 76, so definitely in the vulnerable group when it comes to Covid-19.  Until late June it was impossible to fly between London & Helsinki, and although flights are slowly starting again I probably won't be going near an airport until a vaccine for Covid-19 is available.  So there are no sailing cruises planned for 2020.  I have invited some crew who've sailed on Korybant in past years to skipper her this year, and to plan their own cruises.
All being well (in a very uncertain world) I hope to be back on board and resuming the usual cruises in 2021
February 2019
Finland seems to be in the grip of a traditional winter, deep in snow, temperatures well below zero.  London had its first snow of the year last week, 2-3 cm in total, so total chaos on the trains and roads.
I've been thinking about plans for summer 2019, and at present I'm expecting to do the same sort of things as last year, but as always it's up to the crew to have a say in where they want to go.
Last year we set out to visit lots of saunas, and to write reports on each so other sailors would know where the best saunas are.  I'm very grateful to the four crew on two cruises who did all the hard work.  You can find their reports here.
November 2018
After the hottest summer in the Baltic for decades Korybant is ashore in Helsinki and resting for the winter.
End-May 2018 Update
Korybant was launched about 21 May, and seems to be dry and ready to move off.  I fly out on 29 May to start loading all the gear on board and packing it all away, and also starting to stock up with food and drink, ready to leave for Turku about 2/3 June.
If all goes well we should be in Turku by 10 June, with time for a brief cruise if anyone is available.
2018 Update
Here in London it's 17 March, and it's been snowing all day, with a promise of more tomorrow.  So I've been updating the website, and trying to finish the initial plans for this year's sailing.
Bookings are open now, please take a look.
2017 Awards
It was a great summer, in spite of the rather grim weather on some occasions, and I thought I would single out some of the crew who helped make it more enjoyable than the weather might have justified.
Hard weather crew of the year
This was definitely Tuulikki and Elina, who had to put up with really strong winds, and the disappointment of not making it round the north side of Aland.  They also gave me the idea of doing a specialised Sauna Cruise in 2018, of which more later.
Most entertaining crew of the year
This was, without doubt, Ella and Pilvi, who not only enjoyed themselves all the time, but managed to entertain me too.  Great fun to have on board.
Chef of the year
This has to be Jenna, who managed to feed us very well during a sometimes boring (and sometimes too exciting) trip from Turku to Helsinki.  It's amazing what a bit of imagination can do with a two-burner stove.  And just to complete the story she's an excellent sailor too.
Dog of the year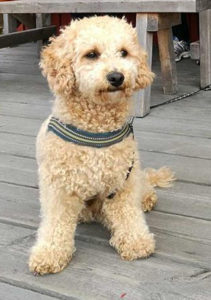 Without a doubt the loveliest dog we saw all summer was the harbour dog in Rodhamn.  The crew were keen to adopt or kidnap him, but I managed to persuade them not to.
And lastly thank you to all who crewed with me this year, I hope you enjoyed it as much as I did, and that you'll all come back in 2018
2018 Plans
I think I'm going to have to abandon the idea of sailing up to the Quark and across to Sweden, the logistics of crew changes make it very difficult to organise, so 2018 will be a bit like 2017, although I hope we may make it to Sweden next year.
The new idea I'd like to try is a Sauna Cruise, in which we'll try and visit as many island saunas as possible, and score each one in several ways, to see if next year we can agree on a Best Sauna prize.  In 2017 the competition was probably between Osterskar and Helsingholm, with Kokar a close third, but we'll try and make it a bit more structured next year.
If you have any other ideas you'd like to see added for 2018 do email me.
23 June 2017
I'm on my way home for a few days break, back on 29 June.   I hope everyone in Finland has a great midsummer, and I'll see you soon.
There are still two cruises with spaces left.
07 June 2017
In Helsinki at last, and it looks like summer at last.  The leaks are still there, but slowing, and I have crew for Helsinki to Hanko this weekend, but still need crew for Hanko to Turku next week.
The only crew slots left are for the second half of August, about 19-26 August, when I'll be in Turku, and happy to do a short Archipelago cruise if anyone would like to come.
29 May 2017
I'm still watching the water come in.  We plan to try a fix for the problem later today, and I'll report back in the morning.  Apologies to all those who've offered to help crew, but we need a boat that has stopped leaking before I can respond to you all.
27 May 2017
All that warm weather in Finland a few days ago must have been very welcome, but it has dried out Korybant quite badly, and after five days I'm still watching two pumps keep the water level down.  It's very frustrating not being able to speed the process up.  But we should be in Helsinki by next weekend in time for the next leg to Turku.
12 May 2017
I'm still looking for crew from Helsinki to Turku, and to make it easier for some people I've split the trip in Hanko, so you can leave or join there.  You can still do the whole trip if you'd prefer that.
17 April 2017
Just a few spaces left, please contact me now if you're interested.
9 April 2017
I've now marked the return trip from Stockholm to Turku, via Mariehamn, as booked for a family cruise.
Cruises A & B still need crew.  Cruise C now has one space left, and that's all.  Don't wait any longer.
29 March 2017
Almost half the spaces have gone already, don't miss out.
11 March 2017
First bookings are already in.  Don't wait too long.
2017 is here, and in London Spring is coming.
It's early March, and I'm just finalising plans for this year, and starting to think about 2018.
2017 will be a bit like 2016, with a trip to Sweden, and some time spent exploring the Swedish Archipelago, before we return for a final cruise around the Turku Archipelago, ending the season in Turku.
2018 should be entirely different, because I plan to head North from Turku, up to Vaasa, and then to cross to the Swedish Höga Kusten, and sail south back down the Swedish coast to the Aland Islands, and then back to Turku.  There is a very provisional timetable on the website now, so people have plenty of time to think about it.
21 December 2016, in London
A very Happy Christmas to all my past and future crew.  I'm starting early on plans for Summer 2017, and will be emailing first thoughts on the plan for next year some time in January.
17 August 2016, in Helsinki
The end of the season is approaching, sadly, and autumn seems to have arrived early, with driving rain, strong winds and no sun.  We collected Korybant from Hanko on Monday 15th, and with help from a very short-notice extra crew we sailed her back to the HSS in two days, yesterday being wet and windy, so using two reefs in the mainsail for half the trip.
Now it's time to start thinking about next year.  To help us with this we're having a drinks party on board, at the HSS on Liuskasaari, on this Friday evening, 19 August, from 18.00 to 21.00.  Wine, beer, whisky and gin will be available (unless we run out).  All those who've crewed on Korybant will of course be welcome, but we also invite you if you haven't sailed with us yet, but would like to talk to some people who have, and hear what it's like.  Do come and join us.
26 July 2016, in Stockholm
After a very fast crossing of the Sea of Aland on Friday last, probably averaging 7 knots most of the way, we arrived in Sweden just in time for a heat-wave, with temperatures of 30°, but still enough wind to keep sailing.  Sweden has become more crowded since Korybant was here 10 years ago, or perhaps we're just used to Finnish harbours, which don't seem as full.
I'm about to go home for four days, then back for another four days, then home again (don't ask why), and then a Finnish crew collect Korybant from Stockholm and sail her back to Hanko, where I'll collect here again in mid-August.  That's the plan, anyway.
30 June 2016, still in Turku
Next year I will be sure not to plan anything over the midsummer weekend, it's impossible to find crew. The result has been a small reorganisation of the plans so that the Turku-Rauma Cruise will start on 1 July, and from Rauma we shall go to Mariehamn.  Not  big deal, it's been nice having more time in Turku, and a lesson learned for next year.  At least the weather has been mostly fine, and warming up nicely after early June.
And just a quick note on Brexit.  Nothing will change next year, I plan to do the same sort of thing again, so if you've missed out this year don't worry, I'll be back.
7 June 2016, in Turku
After the fastest trip from Helsinki that I can remember here we are in Turku, about 4 days ahead of schedule.  We had a cracking sail fro Högsåra today, including a fine spinnaker run up Airisto.
Now it's Turku Open House, on the same principles as in Helsinki, if you'd like to come and see the boat, talk about sailing, and perhaps sign up to sail on Korybant this is your chance, we'll be at the city harbour on the Aura (berth 24) until Sunday, and possibly Monday.  Contact details are as for Helsinki, just text or call me on +358 449687634 and let me know what time would suit you.
30 May 2016
Helsinki Open House (or Open Boat, I suppose) starts now.  If you've been thinking about joining Korybant for some exciting sailing, but haven't been sure about sailing on such an unusual boat, here's your chance to came and have a look, with no commitments.  Korybant is tied up on the Classics pontoon at the HSS on Liuskasaari, and I'll be on board every evening from 16.00 to 22.00 (or later).  If you'd like to come and have a look, and perhaps a beer or a glass of whisky, just text or call me on +358 449687634 and let me know what time would suit you.  The ferry from the mainland runs every 20 minutes, and costs €6 return.  You'll see the British Red Ensign as the ferry brings you in.
And there's still one space available for the trip from Turku to Rauma, 22-29 June.
26 May 2016
I sometimes think that every season starts the same way.  I turn up at the boatyard, all ready to load everything on board and be gone by the afternoon.  What actually happens is that there are four pumps in the boat, working flat-out, and the boat is still hanging below the crane just in case a pump stops.  At least this year the sun was shining, and the temperature felt like summer.  And by the afternoon I'd been able to switch off two pumps, and later in the evening I could turn on Korybant's little electric pump and take all the rest away.  Spring in Finland has been quite warm, if not hot, and wooden boats can dry out quite quickly in that weather, so I shouldn't have been surprised.
Day two went much better.  We'd finally organise a completely new set of rigging, a little simpler than the old set, which was over 30 years old, and the new wires all fitted exactly, which is always nice.  So I could put all those boxes on board and start to unpack (it's amazing how much stuff we manage to carry on Korybant), and also sort out the bits we don't need any more, like the third anchor we've been carrying around for 30 years, and never used.  I find it's necessary to be fairly ruthless each year, going through all the lockers and little hidey-holes and asking "why are we carrying this about?" before taking it home or (more often) throwing it away.
Now I'm sitting in the town harbour in Lovisa, listening to it pour with rain, and thinking how lucky I am that it didn't do this yesterday.  On Saturday we set off for Helsinki, with a good forecast, but not very much wind, and a good time to try out the new mainsail and the new number 2 Genoa.
Summer can't be far away.
11 May 2016
Only spaces left now are 22-29 June, Turku to Rauma.  Two spaces still free.
20 April 2016
Getting fairly fully booked now, don't wait, get in touch now.  Only 3 spaces left as I write.
26 March 2016
I've posted a link to the website on the Facebook group, and so far have three possible crew.  No decisions until the middle of April.
More Planning for 2016 (posted 12 March 2016)
I've been juggling the cruises to fit in some shorter ones, for people whose time is limited.
I think it's just about done,  but as people sign up and ask to move start or finish by a day or two I may do that.
Planning 2016 (posted 2 March 2016)
I'm just starting to plan cruises for 2016, so the site will be changing quite a lot over the first two weeks of March as new pages are added.  As the article below indicates, looking back at 2015, I hope to have learned some lessons about how to improve our sailing.
Keep an eye on the site, and do get in touch if you'd like to volunteer, or to learn more.
Reflections on Summer 2015
This was the first year that we'd planned the whole summer with the help of volunteer crew, mostly Finnish.  I thought it would be helpful to summarise how it all went, and to draw some lessons for 2016.
The English are supposed to be obsessed by the weather, but I suspect that (sailing) Finns are too.  June started very cold, and the trip from Helsinki to Turku was hard work, with three days battling against W/SW winds of 10-12 m/s.  The nights were really cold.  We managed to finish the trip in just under a week, thanks to some excellent helming from Pasi, well supported by Crista.  Weather in June is very variable, I have done this trip in four days without ever needing to tack, but 2015 wasn't like that.
After a week at home we restarted from Turku on a trip around Aland.  The weather had improved a bit, and we reefed much less often, but the next five weeks were unusually cool for a Finnish July.
We managed to achieve the planned stops on time, giving us a couple of days in Mariehamn to rest, shop and generally tidy up before the next crew member arrived.  The trip back to Turku could have been done in five days, but we zigzagged around the archipelago visiting some old favourites before finally arriving in Turku for another crew change.
The next two weeks were deliberately mostly unplanned, and we saw several of the southern and western parts of the archipelago, as well as the bits nearer Turku.  We lost a few days to hard wind, but overall it went well, and I think everyone enjoyed themselves.
At the end of July I went home for a week, and came back to find that summer had finally arrived.  After a July in which maximum temperatures rarely went over 20 degrees August made up for it with warmth and mostly light winds.  Ella and I went from Turku to Helsinki in 4 ½ days in excellent weather, arriving just in time for the Viaporin Tuoppi.  Johanna came for the race, which was sailed in very light winds (not our best conditions).  After the racing the forecast was still good, so Ella and I set out to explore the Eastern Gulf of Finland, visiting Kotka, Hamina, Kaunisaari, Haaparisari, Ulko Tammio, Tammio, and Ulko-Nuokko, most of which were new to me.  Winds were light, and we motored more than I like.  Helen joined us for the last week, and did a superb job of helping get the boat packed up for the winter, and on 1st September we sadly caught the plane back to London.
Lessons from 2015
I'm hoping to keep doing this for several years more, so it was important to think about what could be improved.  Here are the main points:
Vegetarians
Having one vegetarian on board a small boat makes the cooking more complicated.  Next year we hope to be better organised so that we have "vegetarian-only" cruises.  I'm very happy to eat vegetarian for a week.  So if you're interested in sailing with us next year please say if you're vegetarian, and how strict that is.  I may nominate one or two cruises as "vegetarians preferred", or I may just try and fit people in after I've seen who's interested.
Cooking generally
I've been very lucky this year to have crews who could cook excellent meals on our two-burner cooker, and nobody went hungry, or suffered from scurvy.
Crew structure
There wasn't any attempt in 2015 to plan the mix of crew, so I've sailed with a wide range of abilities.  For 2016 I'm hoping to be a bit more organised about this, so that (apart from me) there will be one experienced crew, capable of sailing the boat on their own if I'm not there, plus a "trainee".
Part of the reasoning behind this is that I'll be 72 next year, and it's time for me to do less of the hard work raising and lowering spinnakers, reefing, sail-changing and so on, and to let the younger members of the crew do more of the hard work while I sit and tell them what they are doing wrong.  Then I can carry on spending my summers the way I love to for another ten years.
Crew Planning
The trainee will have less experience, and we will try hard to make sure that they learn the skills they will need.  The Royal Navy definition of an Able Seaman  was that he/she should be able "to hand, reef and steer", in other words to raise and lower sails, to reef sails, and to steer the boat unsupervised.  I'd add to that list the ability to tie useful knots, to splice ropes and to whip the ends, to recognise all navigational marks, and to know what they mean, the ability to read a chart, and to interpret it, plus the ability to use the GPS as an aid to navigation.  This is a work in progress, but by the beginning of the 2016 season I hope to have a longer list of things that we can teach the trainee member of the crew.
The more experienced member should come already qualified, but I will be working on a list of what I expect them to be able to do, and in each case we can consider whether there are gaps in knowledge which can be filled.  Again I hope to create a list of abilities/qualifications that I'd expect the more experienced crew to have.
To support all this training I'll be working over the winter on a series of check-lists as training aids.
Where to go in 2016?
I think the 2015 cruises worked well, but we had several discussions about some more adventurous ideas which I hope to consider over the winter.  One would involve heading further north, to Uusikaupunki and beyond to Pori and perhaps to Vaasa.  This is very hypothetical at present, and I need to think about crew changes in convenient places.  There was also a suggestion of crossing from Vaasa to Sweden, and coming back down the Swedish coast before crossing back to Aland.  This would present more problems with crew changes, though.
Slightly easier would be to do the "Round Aland" trip, but to extend it from Mariehamn to include a week or ten days in the Swedish Archipelago.
I'm very open to new ideas about where to go, so if you have any ideas please use the contact form, or email me direct if you have my address, and let's have some more ideas.  In particular:
Where should we go next year?
How useful would it be to you if we provide some training?
What else would you like to know to help you decide whether to join us?
Other ideas for 2016
I had quite a lot of interest in crewing in 2015, and sadly many people could not be fitted in.  Other people had questions about the boat, how easy it was to sail and so on.  In early June 2016 I plan to have a sort of "open house" in Helsinki where people who'd just like to come and have a look and ask some questions can do that.  If the weather suits we could probably fit in some 2-hour sails as well.  The date for this will need to be fixed nearer the time, but we'd probably be looking at 4/5 June, and probably evenings either side of that weekend.
29 August 2015, in Lovisa
So, the 2015 sailing season is almost over.  Helen and I are packing everything up for the winter, and on 1st September we will fly home.  The weather is helping a bit, we've had pouring rain the first night and most of yesterday, and today there are thunderstorms around.
Once I get home I'll write a longer summary of how 2015 went, and the lessins I have learned, but I do want to say a big "Thank You" to all those who sailed on Korybant this year.  I hope you all enjoyed it as much as I did.
17 August 2015, in Helsinki
I've been told off for not keeping this blog updated, and I've had to explain that I've been too busy sailing, if that's an excuse.
After Karingsund we moved on to Mariehamn, where we changed one crew member, and completed the trip round Aland quite quickly, with some good sailing winds.  Then we changed one crew member in Turku, and embarked on a leisurely cruise around the Archipelago.  We visited some new places, as well as islands that Korybant had seen before, and although we lost 3 days to bad weather it was mostly good sailing weather, although the coldest July I can remember in Finland, with an average of 17-18 degrees.
Fortunately August seems to be trying to make up for that.  I've been back on board for just over a week, in which time we've sailed from Turku to Helsinki, taken part in the Viaporin Tuoppi (3rd out of 4 boats, on a day with hardly any wind), and tried out a new mainsail, which looks very good.
If the weather holds, as I'm promised it will, we'll have a brief trip around the Eastern Gulf, before taking Korybant back to Lovisa for the winter.
Then I can sit down and start to plan next year.  This year has been very instructive, I've learned a lot from those who've crewed on Korybant, and have several ideas about improving things for next year.  But I need to have a long think about 2016 before I post anything here . . . . . .
3 July 2015, in Karingsund, Eckero
The trip around the north side of the main Aland Islands is almost over, we'll be in Mariehamn tomorrow.  It's been a bit of a slog, the wind has been on the nose about 90% of the time, and I think we've done about 10-15 miles with the sheets eased.  Fortunately it's mostly been light wind, and sometimes so little that we've had to motor.
The crew have been brilliant, no complaints, and at present they are about to go for a swim in rather cold water.  This has been a day in harbour, doing some housekeeping, washing clothes, and resting after a long day yesterday.  It has been very warm, 24 degrees at least, in spite of a strong wind.
In Mariehamn we say goodby to Johanna, and welcome a new crew member for the trip around the southern side of Aland and back to Turku.
12 June 2015 in Turku
At last.  Today has been a good sailing day, 35 miles in good winds, not on the nose this time, so fast but dry, and almost warm for a welcome change.  One crew has already caught the train back to Helsinki (thank you again, Pasi) for a well-deserved rest, and now there's the laundry to do, the boat to tidy, some shopping to do, all before I fly home on Tuesday.  I just hope it will be warmer when I come back on 24 June.
9 June 2015, in Hanko
we left Helsinki last Friday 5th, and had a fairly hard beat for 20 miles down the coast to Porkkala, finishing with two reefs in the main and our smallest head-sail.  It was very cold, the sea is still cold from the winter, and I wished I had some warm gloves.  Saturday was better, wind more in the south, and less strong, and we made good progress across the Bay of Porkkala and into the Ekenas Skargard.  The wind was forecast to increase and veer west at night and we found somewhere reasonably sheltered, but in the morning the wind went more south and we had to move, eventually stopping in a big marina at Notholm.
Yesterday we reefed down again and started another 15 mile beat to the west, mostly with one reef and small head-sail.  Very cold again, but we made Hanko by about 15.00 and were glad to stop.  We all went out to dinner to celebrate.
Today we're having a rest, and warming up.  We walked along the beach to the House of the Four Winds, a small cafe once run by General Mannerheim before the war.  Here are Crista & Pasi enjoying lunch in the sun: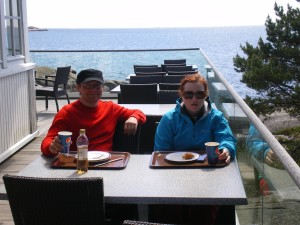 Tomorrow we hope to move on, and if the weather is good to get to Helsingholm.
30 May 2015
We're in the HSS in Helsinki harbour, after a 50 mile, 11 hour trip from Svartholm, just outside Lovisa.  It's been a long day, and we shall sleep well tonight, helped by some excellent smoked salmon, a glass of wine, and a small tot of Black Grouse whisky.
Now all we need is  for the wind to stop blowing hard from WSW so we can make progress towards Hanko, and then Turku.
May 8 2015
At present we're fully booked and with a short waiting list in case anyone drops out.  Feel free to ask to be put on the waiting list in case I lose someone, or ask to go on the list for next year.