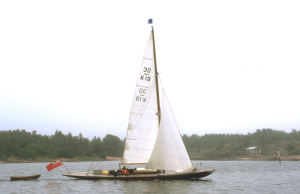 Korybant was built in Sweden in 1937-1938 (they didn't rush things in those days), to the rules of the International 30 square metre class.  The 30s were planned to be racing boats which could be cruised by a small crew, mostly just for the weekend.
We've owned her since 1984, originally on the East coast of the UK, mainly sailing out of Harwich harbour and across the North Sea to the Netherlands, but in 1998 we decided to take her back to Sweden, and then on to Finland, to see the waters she was built for.  We thought this would just be for 3-4 years, but she's still in the Baltic, because those are the waters that suit her (and us) best.
In 2015 we had some great sailing, with the help of crew from Finland and from the UK.  In 2016 we did more of the same, and again in 2017 and 2018.  In 2019 we visited Sweden, with some new cruises and destinations.
2020 was cancelled because of the Coronavirus, and difficulties travelling from the UK to Finland, but the arrival of vaccines mean that we shall be able to sail again in 2021.
Check the Blog for recent updates.  Click here for our Sauna Reviews which we'll try and update in 2021.